Break your routine life and visit New Jersey, hosting the most diners per population and the oldest seaside resort in the US. It is an exciting place with rich history, culture, and amazing people. For a fun visit, consider going towards the less-traveled paths to discover the hidden gems that make New Jersey charming. You can enjoy a memorable experience visiting the places listed below.
Caffé Espresso Italia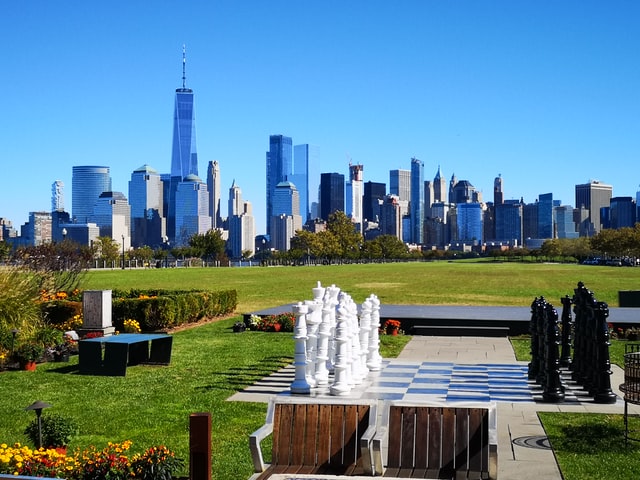 Image via Unsplash by vale_capettini
Start your morning with breakfast in an intimate, clean, and organized place. Caffé Espresso Italia is located at 310 Adams Street, Newark, and it offers a homely atmosphere because a family owns and operates the business. The restaurant accepts cash only, so pass by the ATM before going in to avoid inconvenience. They serve homemade Italian and American delicacies with a generous portion of bread.
Caffé Espresso Italia is popular among the forces: FBI, Firefighters, and the Newark police. As such, tables fill up quickly, so it is best to go for a late lunch or early dinner if you visit with your family. The food is fresh and delicious, with menu items like sandwiches, spaghetti, meatballs, Eggplant Parmesan, and prosciutto (that goes well with their fresh mozzarella, hot peppers, and Balsamic).
World AIDS Museum & Educational Center
Founded in 2004, this museum hosts a collection of art related to HIV/AIDS made by HIV positive people. The center initially started in Fort Lauderdale, Florida, as a support group for people with the virus, and it officially opened its doors to the public in 2014. The traveling AIDS museum project in Newark, New Jersey, offers art enthusiasts the same exhibits and events.
The museum covers the extensive history of AIDS, features exhibitions on the stigma of the condition, and showcases small victories on the epidemic. For example, the virus sometimes causes thinning and loss of hair, but experts now offer various non-surgical and non-invasive solutions, including:
Follicular unit extraction (FUE).
Facial hair transplant.
Collagen induction therapy (CIT).
The above services can also benefit the general public because they are useful in treating other conditions, such as a receding hairline that occurs due to age, hormonal changes, stress, lifestyle choices, or other causes.
Donkey's Place
When on road trips across the state, stop here if you are a fan of Cheesesteaks. The Donkey's Place has some of the most delicious Cheesesteaks in Camden, New Jersey, and nearby areas. They serve Cheesesteaks on Vienna rolls instead of hoagie rolls.
Although it was founded in 1943 in Parkside by a former Olympic boxer, Leon Lucas, and his wife, it is a hidden treasure to this day. The Donkey's Place is named after the Olympic boxer's punches, likened to a donkey kick.
You can either eat at the restaurant or order online for a curbside delivery when visiting New Jersey.
Diggerland
If the idea of digging with an excavator, driving an actual forklift, or testing how high a telehandler can reach sounds great, include Diggerland in your itinerary. It is the only construction theme and water park in the US. Diggerland allows children and adults to operate earth-moving machinery, such as Ventracs, excavators, and tractors. You can also swim in the open-air water park during summer.
Diggerland spans 20 acres, with approximately 2 acres assigned to the Water Main Oceanic Park, which offers many activities. You can tailor your activities to the ages and interests of each member of your party. For example, the Dig-A-Round is designed for kids and is similar to a carousel but involves riding in a JCB 8065 crane tank. In the Elevation Station, children can ascend a plate deck that takes a leisurely 60-foot vertical journey.
Additionally, you can cruise the Excavator Express; a family-friendly Diggerland train pulled by a tractor, or experience what it feels like to ride in an actual five-ton military transport vehicle. Go early in the morning to fully enjoy the park because it takes about 4 hours to traverse the entire facility.
Fern & Fossil
Fern & Fossil is a small shop that offers workshops/training on terrariums and sells soy-based succulent candles, plants, unique artifacts, and jewelry. A terrarium is a small, glass indoor gardening feature that forms a beautiful house decoration.
About 39 million people in the US live in apartments, and if you or your loved ones are among them, it would be an excellent idea to learn about hydroponic apartment gardens at Fern & Fossil. The training allows you to explore your creativity while learning how to grow plants quickly and socially. By using earth, rocks, sand, and bespoke ornaments, you will create a customized project that you can take home as a participant. The workshops are ideal for special occasions, like your birthday or team-building activities.
You also get the chance to unwind with meditation and drinks. Some of the events at Fern & Fossil include open-air markets, music festivals, wellness events, and wine tastings.
Just Jersey
There is no better place to find a souvenir for the fond memories you will make in New Jersey than Just Jersey, located in Morristown. You can even enroll in their customer reward program to accumulate points for future use. The products range from edibles like New Jersey-shaped chocolates to specially crafted soaps, greeting cards, hanging signs, and mugs. Just Jersey offers variety with a touch of New Jersey's culture: its people, natural beauty, grit, and diversity.
Just Jersey boosts the local creative economy through its handcrafted products made by local artists and businesses. They can help you discover unique items to spread the Jersey love. You can customize gift boxes depending on the recipients, like family members, colleagues, or employees. Put enough money in the metered parking to cover several hours because the shop has volumes of products and you will need time to choose the best.
Deviate from the usual to discover these fun hidden destinations. Most of these places provide locally handcrafted products that capture the essence of New Jersey at reasonable prices. You can also get hair transplant services at Maximum Hair Restoration while exploring the city. Reach out today for an instant quote on the available services.